About Tai Chi
Tai Chi is a unique form of exercise that cultivates physical health and mental concentration. Tai Chi originated in China several hundred years ago and spread throughout the Western countries in recent decades.
Tai Chi is designed in accordance with the principles of Chinese medicine and this makes it one of the gentlest and safest forms of exercise. Tai Chi helps to relax persistent muscular tension and to release energy blockages in the body. One of the greatest health benefits of Tai Chi is improved blood circulation – restoring the body's ability to heal and rejuvenate itself. You can read more about the health benefits of Tai Chi here.
Mental focus (directed attention) is at the core of Tai Chi practice. People often describe Tai Chi as "meditation in motion". Using the mind to direct the body is what gives Tai Chi its potency. Without the mental aspect Tai Chi becomes just a slow dance, an empty vessel. This is why it is usually ineffective to learn Tai Chi from a book or a DVD, or from a teacher who has not undergone years of proper training.
Tai Chi is very different from Yoga. Yoga is focused on entering and holding fixed postures, while Tai Chi is focused on fluid and accurate movement. Yoga often places a high emphasis on stretching – pushing the limits of the body, while Tai Chi works inside the comfort zone and allows it to expand naturally.
The aim of Tai Chi is to make the body more relaxed and to move accurately with minimum effort. Because of this, doing Tai Chi makes one feel more relaxed and energized. This makes Tai Chi the opposite of a workout.
People who practice Tai Chi experience many benefits including:
Improved balance, flexibility and coordination.
Easing of tension in back, neck and joints.
Improved mental clarity, focus and calmness.
Deeper relaxation both physically and mentally.
Improvement in posture and faster recovery from injuries.
Increased awareness of the body and its internal energies.
Better blood circulation contributing to health and longevity.
Tai Chi is also a martial art. The martial approach of Tai Chi is to overcome hardness and force with yielding and accuracy. The first few years of learning Tai Chi are usually spent on solo exercises – working on internal balance, focus and coordination. Partner exercises and self-defence applications are taught at later stages.
The full Chinese name of Tai Chi is T'ai Ji Ch'uan. Tai Ji can be translated as 'supreme ultimate' or 'opposite extremes' and refers to the philosophy of Yin and Yang. Yin and Yang are two opposite yet interconnected polarities present in everything. This is how Tai Chi gets its emphasis on balance. Chuan means 'fist' or 'boxing'. Tai Ji Chuan can thus be interpreted as 'martial art based on the philosophy of balance'.
Click Here to see what Tai Chi form looks like, performed by Master Huang Sheng Shyan. You can also watch Master Huang's martial applications demo here.
You can find my collection of articles on the subject of Tai Chi here.
My Tai Chi Lineage
Yang Chengfu (1883–1936) > Cheng Man Ching (1902-1975) > Huang Sheng Shyan (1910-1992) > Yek Sing Ong > Michael Yek > Valera Koltsov
The first three masters are widely known and there is much information about their history and accomplishments on the internet and in books. Master Yek Sing Ong learned directly from Master Huang Sheng Shyan for 30 years and was one of the 13 students awarded with Master Huang's top certificate in Tai Chi. Master Michael Yek is his son and has been learning from his father for over 30 years.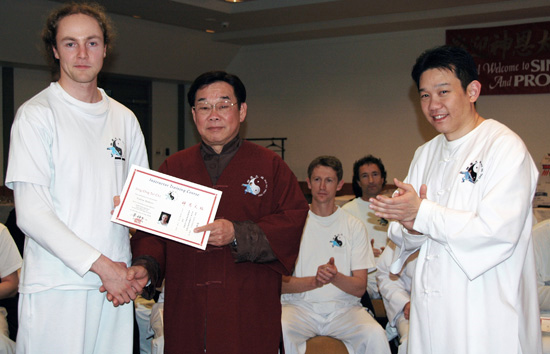 Photo: at Sing Ong Tai Chi instructors camp (2008) – Valera Koltsov, Master Yek Sing Ong, Master Michael Yek.
I joined Sing Ong Tai Chi (Yek family school) in 1999 under Michael Yek's tutelage. I remained with the school for 12 years, learning from Michael Yek, his father Yek Sing Ong and their senior students. In 2005 I opened Sing Ong Tai Chi branches in St Heliers and Ponsonby and ran them for over six years. In 2012 I founded Laingholm 11 and began teaching and exploring Tai Chi independently. I have many years of learning ahead of me and feel grateful for the good foundation given to me by my teachers.
About This Class
I am teaching twelve Tai Chi exercises that were designed by Masters Huang Sheng Shyan and Yek Sing Ong. These exercises contain the essence of Tai Chi technique and are ideally suited for daily practice at home. We also do centering exercises and meditation in the first part of the class to support our Tai Chi practice.
This weekly class is designed to be complemented by a daily Tai Chi practice at home – 5 minutes per day for beginners and 15 minutes per day for intermediate students. This practice cultivates the benefits of Tai Chi and integrates them into your life on a daily basis. Without this home practice you will not get much out of the class.
The classes are held every Wednesday evening at 7pm. The class goes for 45 to 90 minutes. There are usually 5 to 10 people in this group. Some participants stay for a cup of tea and a chat after class (this part is optional).
There is no charge for attending the classes. Koha is optional and the suggested amount is $5 per person. Koha is a Maori custom that represents a voluntary and unconditional gift that is appropriate and comfortable for the giver. You can put koha into the wooden box by the entrance.
Tai Chi classes at Laingholm Eleven are closest to Titirangi, Waima, Woodlands Park and Parau. Allow around 20 minutes if driving from New Lynn, Blockhouse Bay, Green Bay, Glen Eden, Oratia, Waiatarua, Cornwallis or Huia. Allow 45 minutes from Auckland CBD.
Class Requirements
No previous experience is necessary. In terms of physical ability, if you can go for a 15 minute walk or walk up two flights of stairs then you will be able to participate.
The minimum age is 15 given a personal (as opposed to a parent's) desire to learn Tai Chi. There is no upper age limit for Tai Chi.
All visitors are expected to participate in the class, not just watch.
See the venue customs page for requirements that apply to all events at Laingholm 11.
Joining the Tai Chi Class
We have an open class for newcomers on the first Wednesday of each month. This opportunity to try the class is open to anyone, including complete beginners. If you would like to attend the next open class, fill out this form to register.
If you want to bring a friend or a partner with you, your friend or partner needs to submit a separate copy of this form for themselves.