Class Details
Time: Every Wednesday at 7:00pm.
Duration: around 1.5 hours.
Suggested Koha: $10 standard / $5 low income / $2 financially struggling.
Travel Times: Located in Laingholm. 10 minutes drive from Titirangi, Waima, Woodlands Park or Parau. 20 minutes drive from New Lynn, Blockhouse Bay, Green Bay, Glen Eden, Oratia, Waiatarua, Cornwallis or Huia. 40 minutes drive from Auckland City Centre.
Introduction
As many of us know, good things take time. Learning Tai Chi and Meditation is a rewarding long-term journey and it requires patience. Tai Chi is generally unsuitable for people with short attention spans, unless it is a trait that they genuinely want to change. The learning starts on this page so be sure that you have a good 15 minutes to read through the class and venue information to determine whether this class is right for you.
What is Meditation?
Meditation is a practice of consciously directing our attention, as opposed to having our attention be occupied by the endless stream of unconscious thoughts.
Practicing meditation cultivates awareness, deepens self-understanding, leads to a greater sense of calm and inner peace, and improves one's ability to consciously respond instead of unconsciously reacting whenever difficult emotions arise throughout life.
What is Tai Chi?
Tai Chi is a Chinese form of mindful exercise designed in accordance with the principles of Chinese medicine. As such, it is one of the safest forms of exercise that can be done well into old age and has numerous health benefits. This is well recognized in China where millions of people practice Tai Chi every morning in parks.
Tai Chi or Tai Ji is translated as "opposite extremes" and can be interpreted as "balancing the opposites". What's commonly referred to as "Yin-Yang" is also called the "Tai Ji Symbol" and Tai Chi movements are based on this philosophy of balance and interaction between opposing forces. Tai Chi is also known for cultivating the practitioner's ability to feel and consciously direct their internal energy (called Chi or Qi).
Here are some of the common health benefits experienced from practicing Tai Chi:
Improved balance, flexibility and coordination.
Easing of tension in back, neck and joints.
Improved mental clarity, focus and calmness.
Deeper relaxation both physically and mentally.
Improvement in posture and faster recovery from injuries.
Increased awareness of the body and its internal energies.
Better blood circulation contributing to health and longevity.
Greater ease of movement and much less falls when elderly.
Advanced practitioners can also use Tai Chi for self-defence. Tai Chi is considered an internal martial art because it relies on accuracy rather than on physical strength. However, most people practice Tai Chi for its health benefits and the mental calmness it creates.
Difference from Other Disciplines
Practitioners of other disciplines may find the following comparison useful (feel free to skip this section if you don't do any other practice):
Tai Chi is the opposite of a work-out because the aim of Tai Chi is to perform the movements with the minimum amount of strain, minimum effort and full attention.
Tai Chi is a relative of Chi Gong / Qi Gong and utilizes the same understanding of internal energy. Qi Gong is mostly focused on energy cultivation, while Tai Chi additionally incorporates a thorough and detailed study of movement. Both disciplines can be easily practiced side by side and will complement each other well.
Tai Chi is very different from Yoga. While both disciplines seek to still the mind and cultivate internal energy, health and longevity, their methods of achieving these goals are very different. On the physical level, Yoga is focused on the accuracy of still positions while Tai Chi is focused on the accuracy of movement (transitions between positions) and poses are generally not held in Tai Chi. The other significant difference is that Tai Chi does not involve much stretching and does not utilize pain to aid concentration or facilitate progress. The Tai Chi approach is to gently expand the comfort zone from within, viewing pain as the body's signal of what not to do. Both methods can be practiced separately but are essentially not compatible and require very different mindsets.
Tai Chi is not a free form movement or dance meditation. The movements of Tai Chi are deliberate and consciously directed. Both of these approaches complement each other well to develop a wide range of skills, but must be approached differently.
Tai Chi and mindfulness meditation are perfect companions. Both practices involve cultivating detailed awareness of the body – one in movement and the other in stillness. Mindfulness meditation helps to deepen the body awareness in Tai Chi, while Tai Chi teaches how to apply the body awareness to physical movement.
Class Overview
The first part of the class is meditation. We often start by checking in to get a sense of everyone's inner state and of what the group needs this evening, then we practice guided meditation. After the meditation we discuss our experiences to deepen our understanding.
The forms of meditation taught in this class are effectiveness-based and not religious or "new age". Several different meditation techniques are taught over time including breathing meditation, body awareness / mindfulness meditation, inner state awareness, walking meditation, sound meditation and internal energy exercises.
The second part of the class is Tai Chi. We usually focus on one specific Tai Chi exercise and it is taught and practiced in great detail for one calendar month. This set-up and pacing allows newcomers to learn and remember the movements while giving experienced students additional detail to deepen their understanding and refine their technique.
The students start off by learning the basic workings of the movements. Once the basics are learned the students are taught more advanced internal principles such as how to improve their balance and relaxation and how to feel and direct their internal energy. Overall, this particular class is focused on in-depth learning of the inner workings of Tai Chi as opposed to learning lots of different movements – quality rather than quantity.
The exercises are designed to be practiced at home and the students are expected to start a daily routine and practice what they've learned in class for 5 minutes per day, building up to 10 or 15 minutes per day over time. This results in increased benefits for health and well-being as well as a good pace of learning. (Doing one class per week with no daily practice is not enough to get the benefits of Tai Chi.)
The participants are invited to stay for a cup of tea after the class. This is an optional part where we enjoy different teas, good conversation and sit by the warm fire in the winter.
About the Teacher
Yang Chengfu (1883–1936) > Cheng Man Ching (1902-1975) > Huang Sheng Shyan (1910-1992) > Yek Sing Ong > Michael Yek > Valera Koltsov
The first three masters are widely known and there is much information about their history and accomplishments on the internet and in books. Master Yek Sing Ong learned directly from Master Huang Sheng Shyan for 30 years and was one of the 13 students awarded with Master Huang's top certificate in Tai Chi. Master Michael Yek is his son and has been learning from his father for over 30 years.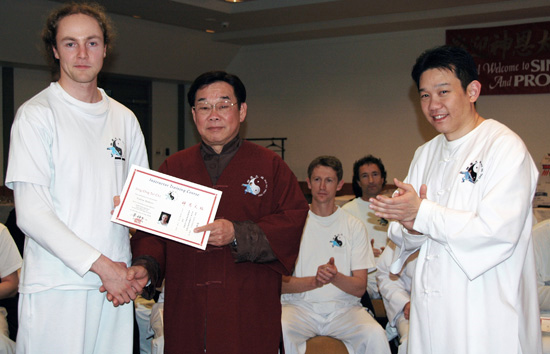 Photo: at Sing Ong Tai Chi instructors camp (2008) – Valera Koltsov, Master Yek Sing Ong, Master Michael Yek.
Valera joined Sing Ong Tai Chi (Yek family school) in 1999 under Michael Yek's tutelage and remained with the school for 12 years, doing thousands of hours of training and learning from Michael Yek, his father Yek Sing Ong and their senior students. In 2005 Valera opened Sing Ong Tai Chi branches in St Heliers and Ponsonby and ran them for over six years. In 2012 he founded Laingholm Eleven and began teaching and exploring Tai Chi independently. Valera feels that he has many years of learning ahead of him and feels grateful for the good foundation given to him by his teachers.
Class Requirements
No previous experience is necessary. In terms of physical ability, if you can go for a 15 minute walk or walk up two flights of stairs then you will be able to participate.
The minimum age is 15 given a personal (as opposed to a parent's) desire to learn Tai Chi. There is no upper age limit for Tai Chi.
All visitors are expected to participate in the class, not just watch.
Be sure to read the venue information page for important requirements that apply to all events at Laingholm 11, including this class.
Joining the Class
Fill out the form below if you wish to join this class. You will receive an e-mail response in the next several days. (Check your spam folder and contact us if a week has passed and you haven't received a response).
Introductory sessions are usually held on the first Wednesday of a month and everyone who is new starts by coming to one of these sessions. After coming to an introductory session you can decide whether you want to continue. There is no obligation.
You are welcome to bring a friend or a partner with you, but your friend or partner also needs to read the venue information and submit a separate copy of this form themselves.