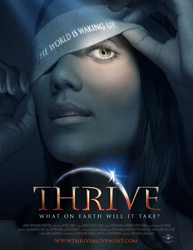 Thrive is an engaging independent documentary that presents findings of the filmmaker's life-long quest to figure out a very fundamental question – why are many people's lives a struggle, and what will it take for humanity to thrive?
Clearly, it is a complex and multifaceted question to address. The movie examines many subject areas in order to form "the big picture" of what is really going on on our planet today:
– Why is the gap between rich and poor widening?
– What is behind our education and healthcare systems?
– Where is the agricultural revolution heading?
– Is there proof of sentient life outside Earth?
– Do 5,000 recorded crop circles contain a message?
– How did the modern monetary system come about?
– Is the crisis of 2008 part of a larger economic cycle?
– Are people being manipulated by governments?
– Are global power and control being centralized?
– What are the latest advances in energy generation?
– What is the evolutionary path of our society?
– What positive life changes can individuals make?
In my opinion, Thrive is the best "big picture" documentary so far. While I don't agree with everything in it, I was impressed by the wide scope of its perspective, and by how well it sticks to the facts – it is definitely not a "conspiracy theory" movie. I'm screening Thrive because it presents many important facts that our mainstream media fails to cover.
We will be watching Thrive at Laingholm Eleven on 25th of November 2012. Thrive is about 2h10m long. Click here for details.
If you can't come you can still watch the movie on your own computer.
For those who find the information covered in the movie hard to believe (probably most of the viewers!), the filmmaker provides a fact check page that lists the sources of information and where it can be verified. Of course everyone is encouraged to do their own research as well. The movie goes in tandem with a comprehensive web site that offers additional information on the subjects presented.
Feel free to post your reviews and thoughts about Thrive on this page. I will also post my review after the screening.